Prince Harry Plans to Become the First British Royal to Testify in Court in More than A Century!
Prince Harry will violate yet another royal precedent when he testifies in court this week, becoming the first British royal to do so in over a century.
The Duke of Sussex is expected to testify Tuesday and Wednesday in his lawsuit against Mirror Group Newspapers, publisher of the Daily Mirror.
Harry's attorney, David Sherborne, stated in court on Monday that Harry would have to testify on Tuesday due to a late flight back to the U.K. after celebrating the birthday of his 2-year-old daughter, Lilibet, on Sunday.
Harry and his wife Meghan, the Duchess of Sussex, along with Lilibet and Archie, their 4-year-old son, reside in California.
Harry and one hundred other personalities, including the estate of the late George Michael, are suing Mirror Group Newspapers for allegedly misusing private information from 1991 to 2011, including phone hacking and intercepting voicemails. Harry's legal team has accused the publisher of the newspaper of illegally collecting information on an "industrial scale."
"It was a flood of illegality," Sherborne said in his opening statement last month, as reported by The Associated Press. Worse yet, senior executives, managing editors, and board members approved this deluge.
Mirror Group Newspapers has denied the allegations, stating that its journalists obtained the information through lawful reporting.
According to the Associated Press, the publisher issued an apology in court documents after discovering "some evidence of the instruction of third parties to engage in other forms of UIG" In court documents, the publisher stated, "MGN apologizes unreservedly for all such instances of UIG and assures the claimants that such conduct will never be repeated."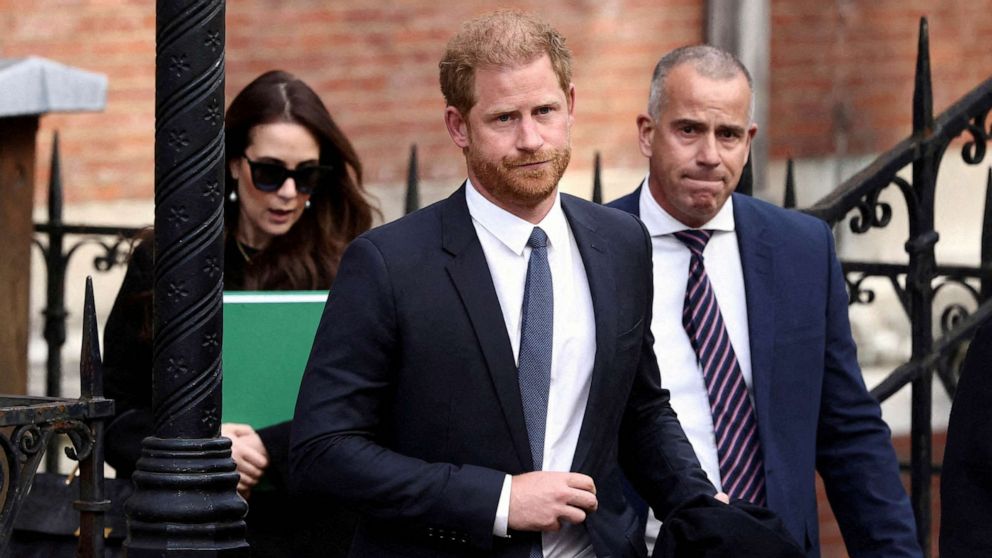 If Harry testifies on Tuesday as anticipated, he will be the first member of the British royal family to testify in court since the late nineteenth century.
"Harry is a person with a crystal-clear vision of what he wishes to accomplish. According to ABC News royal contributor Robert Jobson, he believes he has been mistreated by this newspaper group. "Believing that this newspaper group hacked his phone, he is adamant about receiving compensation and an apology."
Harry has made no secret of his disdain for the British tabloid media since resigning from his position as a senior working royal in 2020.
The lawsuit against Mirror Group Newspapers is one of six that Harry, the youngest son of King Charles III, is currently bringing against British tabloids.
In March, he unexpectedly appeared in a courtroom in the United Kingdom for a hearing on a lawsuit he, Elton John, and other luminaries have filed against Associated Newspapers Ltd., the publisher of the Daily Mail, The Mail on Sunday, and the MailOnline.
The prominent defendants are "the victims of abhorrent criminal activity and gross breaches of privacy," according to a press release distributed by Hamlins, the London law firm representing Harry in the case.
Read More: Matty Healy Seems to Talk About Dating Rumors About Taylor Swift on Stage: "Is It All a Bit?"
Prince Harry and Meghan Markle make their first appearance since the coronation of King Charles.
In a January interview with Michael Strahan of ABC News, Harry explained that the lawsuits he has filed are an attempt to effect genuine change in the media's treatment of celebrities and the royal family.
"I'm in this to have the ability to say, 'Draw a line. Enough. We can all move on with our lives,' he declared. "However, if this continues, I am naturally and gravely concerned that what has happened to us will happen to someone else."